We ordered and are waiting for our adorable holiday cards from
Shutterfly
. The shipping time was quick and Free so that was definitely an easy sell on my tardy butt... I had big plans for holiday cards, including taking a new 2010 family photo... but next year i'll have to get this plan started in October, b/c December rolls around too quick and we just didn't have time. So time to recycle some oldies but goodies that I think our friends and family will enjoy!
So Check it out :)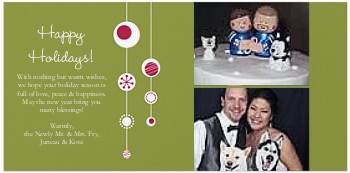 Retro Ornaments Green Christmas
What are you doing this year for Holiday cards?